*Post updated March 21, 2020
*This post contains Amazon Affiliate Links. That means if you make a purchase through a link in this post, I earn an affiliate income or commission at no additional cost to you.
Happy Summer! It's finally time for endless days outdoors without hectic schedules!
These summer activities for toddlers will keep your little ones entertained all summer long.
Summertime always seems to begin with neverending fun and excitement.
However, after the first week or two, a lot of people start to lose steam and run out of ideas to keep their little ones entertained.
Try these summer activities for toddlers and young children to keep them happy and entertained.
Get Outdoors
Studies have shown that time outside improves mood, increases energy level, and improves sleep. Time in the sun also provides your required dose of Vitamin D.
Additionally, the outdoors is a wonderful learning environment full of new vocabulary words and new experiences and concepts.
Apply your safe sunscreen and head outdoors with your toddler and children every day.
Try these outdoor activities with toddlers and young children all summer long!
Bubbles
Babies and children alike are always amazed and entertained by bubbles. They are very inexpensive and provide unlimited fun!
If your child is just learning to walk, blow bubbles and encourage them to walk after them to pop them.
We love this bubble toy that helps our toddler practice fine motor skills and learn to blow bubbles on her own!
Sidewalk Chalk
Sidewalk chalk is an excellent outdoor activity to allow your child's creativity to flow. They can draw pictures, play tic tac toe, practice writing letters, or make a racetrack.
Sidewalk chalk is very inexpensive and is fun for toddlers and children. Find a safe and flat surface and let them play away.
Green Kid Crafts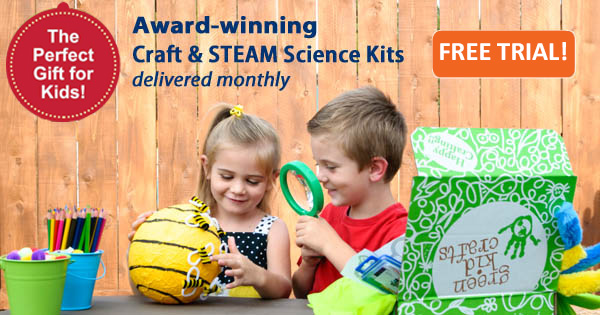 Green Kid Crafts provides STEAM (Science Technology Engineering Art Music) activities for children ages 2-10. They offer either a monthly box or a single box of activities of your choice.
These boxes provide fun and educational activities for children to learn and explore the world around them. Green Kid Crafts help prevent the summer slip and keep kids thinking all summer long.
Plus, who doesn't love getting something new in the mail? This is a perfect gift for any child in your life.
Go For a Walk
Take your children for a walk through your neighborhood for entertainment. If you have a jogging stroller, strap your child in and get some exercise for yourself at the same time!
Walking is a great time to exercise together, have fun, and explore the area.
Playground
The playground is a fun outdoor activity for children and parents. If your child is an only child, a trip to the local playground is a good time for your child to socialize and meet other children.
As a parent, this can also be a time to socialize and meet other parents. Our local playground is full of parents and young children who will eventually go to school with our little one in a few years.
This is such a great place to start forming friendships that may last a lifetime!
If your little one is too small for climbing on the playground, find a playground with a baby swing. Most toddlers love the thrill of the wind blowing their hair as the swing!
Birdwatch
You don't have to own any special binoculars or travel far for birdwatching. Simply buy some bird food and a cheap bird feeder and see which birds show up.
The excitement of the various colors and sizes of birds will keep little ones entertained! If you are feeling more adventurous, go for a hike or to the beach and see what other birds you can find.
Bike Ride
Riding bicycles is a perfect activity for children of all ages. For babies and toddlers, you can purchase an attachment for your own bicycle.
Once your child gets a little older, you can transition to a training bike like this one. Riding bikes is a fun way to exercise and spend time together as a family.
Listen to Music
Listening to music and dancing is a part of our daily routine all year round. During the summertime, we play music outside while out by the pool.
Find Leaves and Rocks
Toddlers and young children love collecting objects. Grab a bucket and collect rocks, leaves, or pinecones.
Once you make a collection, you can turn them into an art craft and paint or decorate them or glue leaves onto a piece of paper. Turn rocks into pets with oogly eyes or make a rock family!
Garden
Work on a family garden together. Toddlers and children love to check on the growth every day, practice watering the plants, and pick your yield.
For more tips on involving your toddler in your family garden, check out this post.
Play in the Sprinkler
There is no better way to play outside than to play in the water! Put on your swimsuits and run through the sprinkler!
Cool off in the water together!
Treasure Hunt
Make a treasure hunt for your little ones to find favorite toys outdoors. You can practice learning right and left or play the game "hot and cold".
As they walk further away you tell them colder, colder and when they walk in the right direction they are getting "warmer"
Hide and Seek
Hide and seek is a favorite of all ages!
For younger children, you can keep your hiding places pretty obvious and they will still get a kick out of searching for you.
Read
Reading is an excellent activity year-round. This is important to state from day one for all children to help build vocabulary, social skills, and prepare them for school.
Pick out some summer-themed books and read beneath your favorite tree.
Set up Blanket of Favorite Toys
If your toddler loves playing toys, bring some of their favorites outdoors.
Grab a blanket or a mat and set up some toys outdoors. Place your little one in the shade and let them play away.
This is perfect for toddlers who aren't quite walking yet or if you want some time outdoors to do yard work or other activities.
We love this foldable blanket from Amazon. When you are finished playing, you can fold it up and store the toys inside!
Simon Says
Simon Says is a classic family game. This game helps teach body parts, listening skills, and thinking skills.
Plus, Simon Says is a great time to jump around and get some extra energy out!
Fly a Kite
Purchase a cheap kite and head to an open field or the beach. Allow your little one to run and try to get the kite up in the air!
Flying kites is a fun activity to teach the concept of up versus down.
Although your toddler may not be able to successfully get the kite in the air on their own, they will have fun trying!
Build a Fairy Garden
Gather rocks, leaves, and sticks and create a small garden for fairies in your yard. Creating a fairy garden encourages the use of imagination and pretend play.
Set out some snacks and water for fairies. Check on the fairy garden in the morning to see if the fairies came for a treat at night.
Picnic
Pack a picnic dinner or lunch and head outdoors. Toddlers are notorious for their love of food, so having an outdoor picnic is a perfect summer activity!
Involve your toddler in the packing process and have them help count the number of plates and napkins required.
Toddlers can help more than you may think, so give them some chores while preparing for your picnic.
Make some special lemon water and pack some reusable plates and cups for a fun outdoor adventure.
Trip to the Zoo or Farm
Take a trip to the local zoo or wildlife refuge. If you're sticking to a budget, check your local area for free wildlife refugees.
Many towns have sites for rescued animals that are free or low cost to visit.
Children love animals, especially animals which they have read about in books. Prepare your child by reading animal books. Bring these books to life with a trip to the zoo.
Catch Lightning Bugs
I think summer nights are my favorite part of summer. We love playing outside after dinner as the sun is beginning to set.
This is the perfect time to search for lightning bugs. Grab a jar with small holes in the lid and make a lantern.
Toddlers will love watching the bugs light up over and over again.
Playhouse
Playhouses are wonderful for imagination play. Your toddlers will love pretending to cook, check the mail, and visit each other in their playhouses.
My little one learned how to walk with the use of her playhouse since it only took a few steps to go from one side to the other.
We love this playhouse which we use year-round.
Summer with Toddlers
These summer activities for toddlers will help your summer fly by with ease.
For rainy day ideas, access this free printable with 30 screen-free activities! Also, if you're stuck indoors with toddlers, check out this post on indoor activities for toddlers and kids.
If you are traveling with young children, be sure to check out my tips for flying with toddlers.
Also, join my mailing list to stay up to date on the latest parenting tips for babies and toddlers.
*Amazon Affiliate links mean if a purchase is made through a link in this post, I earn an affiliate income or commission at no additional cost to you.  Thanks for your support.
Latest posts by Jordan F, MSN, FNP-BC
(see all)