** This post contains Amazon Affiliate Links. That means if you make a purchase through a link in this post, I earn an affiliate income or commission at no additional cost to you.
Many states are closing schools in hopes of containing the spread of infection. While this is great for our communities and our health, this means a lot more time indoors for families.
These indoor activities and online resources will help your kids stay entertained while they're at home from school without unlimited screen time every day.
Indoor Activities For Kids At Home
Kid-Friendly Exercise
If you're indoors all day, you'll quickly find that your kids have a lot of energy they need to get out.
One fun way to let your kids release some energy and stay active every day is through fun online kid-friendly workouts.
YouTube is my favorite way to work out for myself, but they also have a lot of options for kids.
Some of the best kid workouts are Cosmic Kids Yoga and Little Sports.
Let your kids release some of their energy with these fun online exercise videos.
They'll love jumping around and following along while boosting their immune system with exercise.
Cook Together
Another fun way to pass the time indoors is through cooking together.
Practice baking or cooking together with some family-friendly recipes.
We love making no-bake energy balls which are easy to make from things you probably have in your pantry.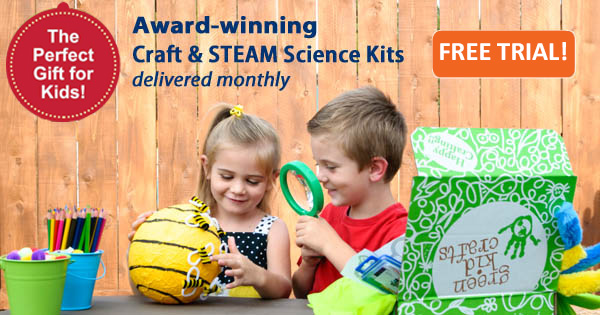 If you're looking for more structured activities, Green Kid Crafts is a great option.
Green Kid Crafts is a home delivery subscription that offers STEAM activities for kids.
This is perfect for kids ages 3-11 to help them learn and have fun without the use of screen time.
Read
Reading together is one of the best activities for kids of all ages. For younger kids, reading helps boost their vocabulary and confidence.
Also, reading helps increase imagination and bonding with your kids. If you don't have many books at home, local libraries offer online platforms where you can borrow books for free on your iPad or Kindle.
ABC Mouse
If you want to add some educational activities throughout the day, ABC Mouse is a perfect app for kids ages 2-8.
ABC Mouse offers more than 2,000 books, games, songs, puzzles, and art activities, each with specific learning objectives in the subjects of reading, mathematics, beginning science, social studies, art and music.
Right now, they're offering a FREE trial for families who are home from school, so sign up before these deals run out!
Arts and Crafts
Get out your paintbrushes and work on some arts and crafts.
We love the Melissa and Doug Easel which can be used as a marker board, chalkboard, or for painting.
Artwork is great for all ages and will help boost their creativity and their imagination.
Make a Fort
This was one of my favorite indoor activities as a kid. Gather your couch cushions and blankets and create a fort together.
Movie Marathon
Time indoors doesn't always have to be constructive. If you need a break from playing, it's ok to add in some movie time.
Cuddle up and watch a movie together.
Build with Blocks or Legos
Grab your blocks or legos and build a castle together. Building is perfect for all ages and can be adapted based on their age.
For younger kids, stick with simple towers and let them knock them older. Your older kids may be ready to make a full kingdom out of their blocks.
Put on a Play or a Puppet Show
Act out your favorite movie or make up your own show. Get creative and put on a performance together.
Make a Scavenger Hunt
Hide different objects throughout your house and have your kids go on a scavenger hunt to find them. For younger kids you can play "hot or cold" to help guide them.
Older kids can try to figure out clues or read a map to find their treasure.
Create a Dance Together
Along with school closures, most areas have closed all extracurricular activities. If your kid was involved in any dances or activities, continue practicing at home.
Turn on the music and get dancing!
Spa Day
If you have daughters, they'll love getting pampered. Get out your natural products and paint each other's nails.
We love Ella and Mila nail polish which is toxin-free and safe for kids.
Practice giving each other shoulder rubs and make a massage train.
Set Up a Bowling Alley
Use plastic cups and a ball to make your own indoor bowling alley.
This is fun for kids of all ages and doesn't require much set up or clean up.
Set your plastic cups up in a pyramid and have your kids roll the ball down "the lane" to knock them over.
Have an Indoor Picnic
If it's too cold to go outdoors, set up an inside picnic. Lie out your favorite picnic blanket and have a picnic lunch inside.
Indoor Activities for Kids At Home
If you have younger kids, you'll love these indoor toddler activities.
The days inside may seem long, but this will pass. Try to stay active and keep your kids happy and learning while they're home from school.
Latest posts by Jordan F, MSN, FNP-BC
(see all)