*This post contains Amazon Affiliate links. That means if you make a purchase through a link in this post, I earn an affiliate income or commission at no additional cost to you.
As summer is winding down, it's time to shift back into school mode. Along with back to school comes packing healthy school lunches again!
Coming up with new ideas for school lunches can be a tedious chore.
I created this ultimate list of ideas for healthy school lunches to help keep lunches fun and unique all year long!
Preparing for Lunches
These lunches are all ready to eat without requiring any heating up or cooking at school. Also, you can cut food into small bites for younger children so they are ready to eat on their own.
Before you start prepping lunches, make sure you have these amazing Bento Boxes for your kids. This is a must-have for toddlers and kids alike, especially those who are not fans of sandwiches.
With these Bento Boxes, you can add a few different options for lunch or include snacks and lunch all in one container.
Additionally, your child can help pack their own lunch and pick out a few healthy options to go into their Bento box!
In addition to the Bento Box, make sure your child has a safe water bottle to stay hydrated while at school. If possible, I would skip or at least limit those very sugary juices and flavored drinks targeted for children.
Water is the best way to stay hydrated, especially for children who are playing hard!
We love Klean Kanteen bottles because they are stainless steel, not plastic, BPA, PFOA free, and come in different colors, sizes, and with different lids.
Make sure to pin this list for later, so you can come back for more recipes as the school year goes on!
Click on the title of the different recipes to access the full recipe.
Ultimate List of Healthy School Lunches:
Avocado and tomato sandwiches are a healthy lunch idea for sandwich lovers without unhealthy processed lunch meats. Shawna from StressLessBeHealthy.com describes these as vegan grilled cheese.
These sandwiches combine delicious, creamy avocado and healthy, fresh tomato on crispy bread. This pairs well with carrots or fruit on the side for a complete meal!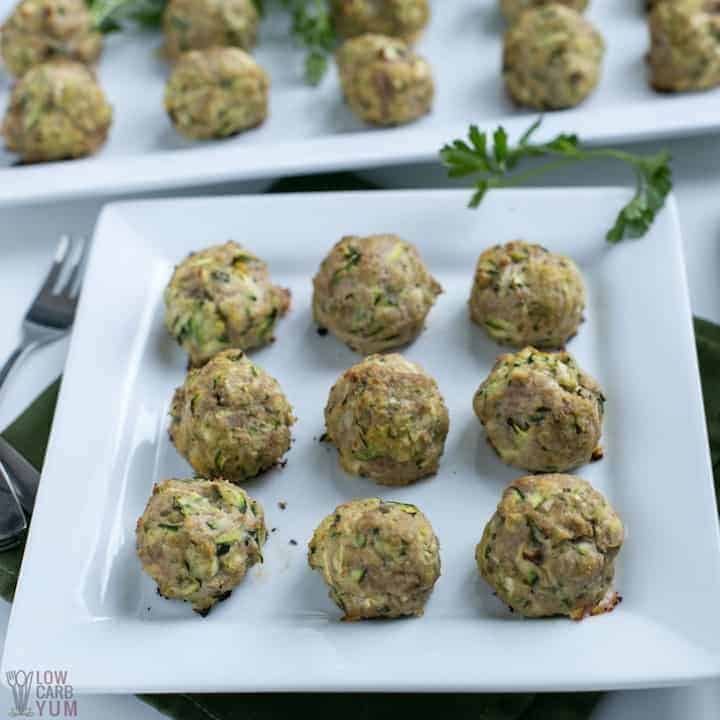 Turkey Zucchini Meatballs are a great high protein lunch for your little ones. They are small enough for small hands to eat without needing to be cut at school.
LowCarbYum recommends topping them off with a little marinara sauce for some extra flavor. You can serve them as is, or serve over pasta or zoodles.
These mini mushroom quiches from ThisOldGal are ready in minutes with the use of your pressure cooker.
The mini quiche is a delicious finger–food and easy to make ahead during weekly meal prepping.
These vegetarian taco wraps from LivingLou are a perfect kid-friendly lunch. They are loaded with protein from black beans and cheese.
The taco wraps contain delicious Mexican flavor, but are not too spicy for young eaters.
Cut them up into bite-sized pieces and pair with peppers and tomatoes. If you are a taco-loving family, this recipe is a must!
If you are looking for a low-carb or gluten-free wrap option, lettuce wraps are for you! They provide the same satisfying crunch as a wrap, but without the carbs or calories!
WholesomeYum provides tips on how to make your own lettuce wraps out of different types of lettuce. She even includes 16 recipes to make with your lettuce wraps!
This post contains 5 fun lunch combinations to fill up a bento box! MamaMaven says these are perfect lunch options for kids who do not like sandwiches.
She provides 5 days worth of lunch ideas, but you can customize it easily with your personal preference. Make sure to include a protein, fat, and vegetable and you have a complete meal!
Salmon is one of my favorite foods to feed my family. It is loaded with healthy fats that help young developing brains grow.
Salmon patties make a great portable lunch. These salmon patties from Recipesfromapantry are ready in under 10 minutes.
You can make a large batch ahead of time for a quick lunch throughout the week. She recommends pairing with some vegetables or rice for a healthy and delicious lunch.
Banza pasta is my go-to for a quick and healthy lunch or dinner. This pasta is gluten-free and made from chickpeas instead of flour.
Banza is perfect for vegetarian meals because it contains about 25g of protein per serving! Add some cooked vegetables and tomato sauce for a complete meal in minutes!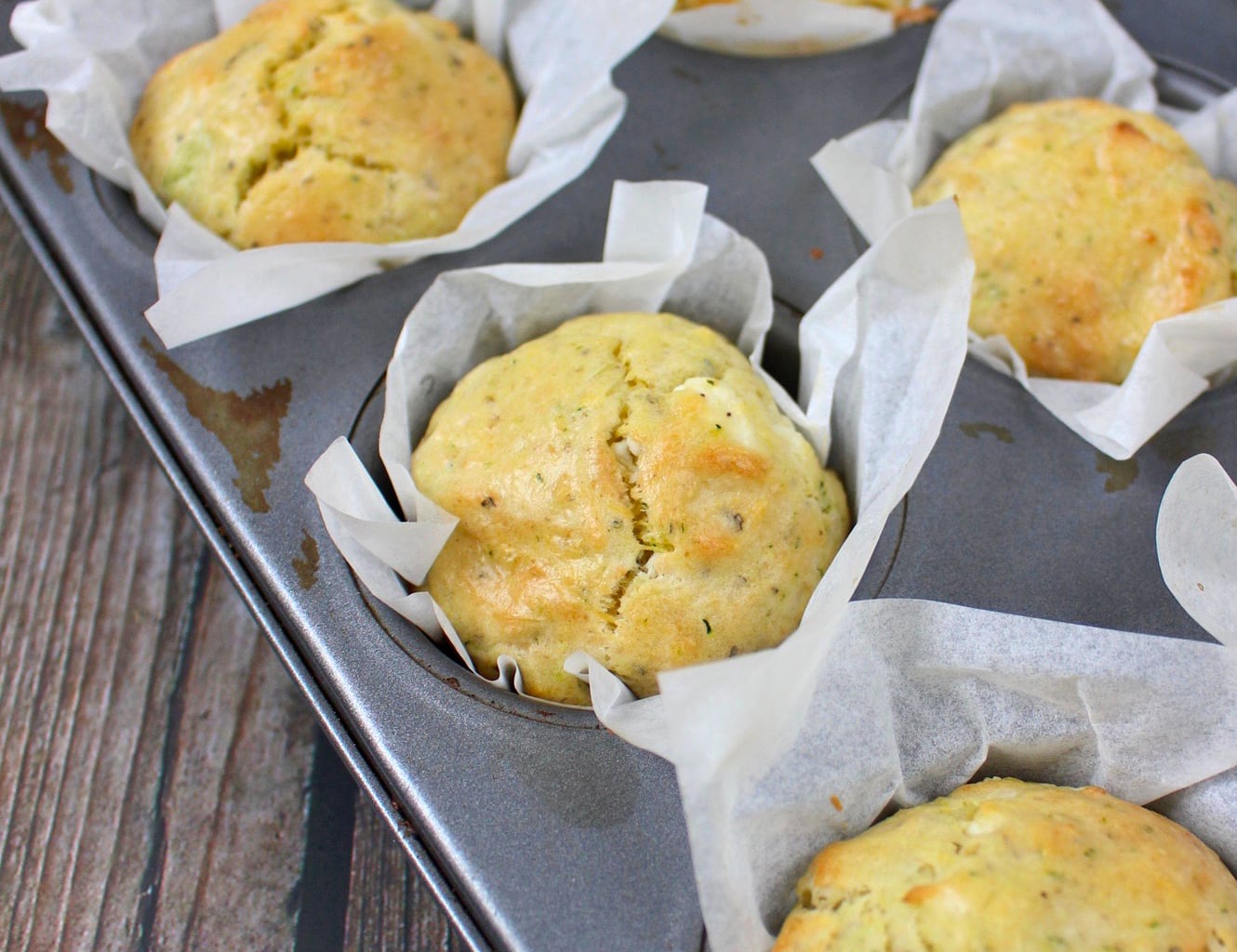 We love healthy muffins in our household. We eat them for breakfast, lunch, or a snack. However, a lot of store-bought muffins are loaded with sugar and empty carbohydrates.
This zucchini muffin recipe from ABakingJourney.com is a perfect healthy muffin! It does not contain any added sugar and has added cheese for some extra protein.
Adults and kids alike will love these savory zucchini muffins.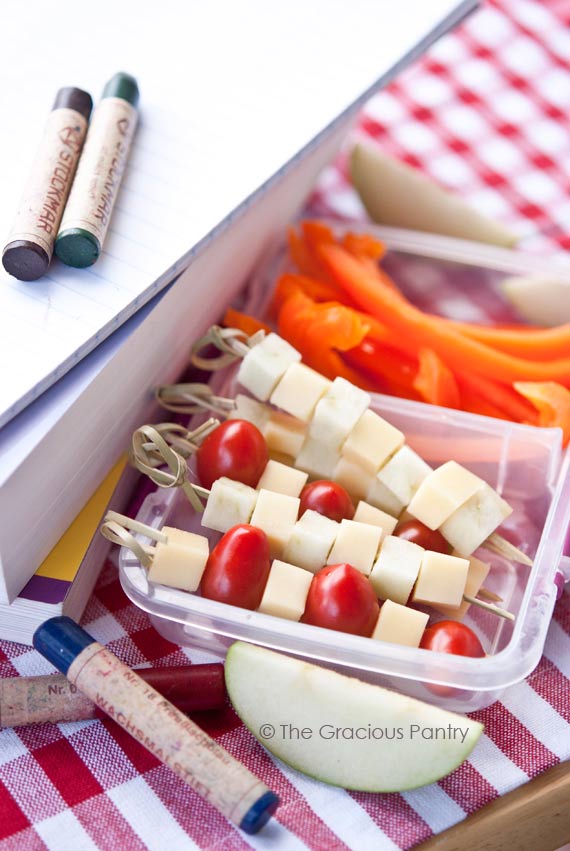 These clean eating apple and smoked gouda kebabs are a fun and healthy back to school lunch from thegraciouspantry. Pair apples, cheese, and tomatoes on kebabs for the perfect finger food.
TheGraciousPantry suggests to replace the toothpicks with pretzel sticks for younger children to avoid getting poked.
We love pizza in our family. This homemade flatbread pizza from littlesunnykitchen.com is made from a vegan crust and topped with your favorite pizza toppings.
She recommends adding bell peppers, tomatoes, and mozzarella cheese to these personal-sized pizzas. Follow this recipe to save money and calories with her easy flatbread crust recipe.
These Muffin Tin Sushi Cups from RhiansRecipes.com are a delicious spin on sushi. Instead of making classic rolled sushi which is very time-consuming, she makes these adorable muffin tin version.
Layer a muffin tin with sushi rice and add a variety of toppings including avocado, carrots, and fish.
Pancakes are classically thought of as a breakfast food, but these vegetable loaded pancakes are great for any time of day. The chocolate flavor masks the carrots and spinach and creates a delicious finger food.
The pancakes are made from blending all ingredients and cooking up in minutes.
These yogurt dippers turn classic yogurt into a fun dip. FindingZest recommends pairing greek yogurt with fruit, apple straws, crackers or pretzels for an interactive lunch.
For all of you 90's kids, these bagel bites will bring back serious nostalgia. Strengthandsunshine transitioned this 90's favorite lunch into a healthier, gluten-free alternative.
Recreate your favorite childhood lunch and make these for yourself as well!
Healthy Back to School Snacks
If you are searching for ideas for healthy snacks to fill up your bento boxes or lunch boxes, this is the perfect article for you! ExploreKidTalk provides a helpful list of 21 healthy snack options.
These snacks are perfect for kids of all ages and are a great grab and go option.
FindingZest.com makes these colorful veggie skewers for her kids. She says the skewers have helped her kids eat more vegetables.
To avoid the sharp end of classic skewers, she recommends using knotted bamboo skewers. Read more about her homemade ranch recipe and her favorite vegetable combinations.
These chickpeas are a perfect high-protein snack. They are a perfect alternative to chips or pretzels. They provide the same satisfying crispiness and salty flavor, but aren't processed.
You can include them in your Bento Box with a few other snacks as part of a complete lunch.
This easy homemade hummus recipe makes an excellent snack or lunch. You can pair with vegetables, pita, or crackers for a healthy and quick meal.
Another excellent substitute for chips or crackers, these beet chips are a delicious crispy snack.
Our no-bake Energy balls are the perfect grab-and-go snack. They are ready in minutes and are loaded with healthy fats and protein and are low in sugar.
We love to make a batch of these to snack on all week.
Back to School Lunch Ideas
As you get ready to head back to school, don't let the stress of packing lunches overwhelm you. Save this list for later and refer back to it when you are in need of some new healthy lunch ideas.
Also, if you want to save more time during the week, read this article on meal-planning for beginners. Additionally, if you have children who are picky eaters, read this article for tips on helping your children develop healthy eating habits!
What are your favorite school lunches?
*Amazon affiliate links means if you make a purchase through a link in this post, I earn a small commission or affiliate income.  Thanks for your support
Latest posts by Jordan F, MSN, FNP-BC
(see all)